Reviews
Francesco; On behalf on myself and the others in the group we want to thank you for a wonderful day touring the Amalfi coast. The lunch restaurant you chose for us in Sorrento was wonderful. Please also thank Vincenzo for us for his great tour of Pompeii. I have attached the picture of us. Thanks again, Dennis Upton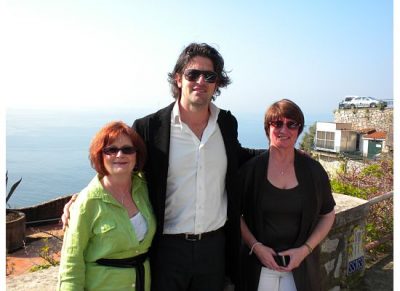 Francesco - I posted the following Tripadvisor with your website. Feel free to post this on your site also: I went to Sorrento, Italy with a group of 5 friends. Based on reviews on Tripadvisor, two months before the trip I booked Francesco's services to tour the Amalfi Coast. From the very day of booking I knew I had found the right person. He was very prompt in returning emails and he was a tremendous help in designing a tour, making suggestions, commenting positively - and even negatively at one point - on points of interest I suggested. He kept in touch throughout the months and days leading up to our trip. And what a trip it was - Francesco Marrapese being one of the highlights. He did a fabulous job escorting us around the Amalfi Coast. Having grown up in the area, he was a wealth of information. I very highly recommend Francesco.
Francesco, Thank you so much for taking us around the Amalfi Coast and Paestum during our visit. We had a great time with you, and will definitely recommend you to people traveling to the area! After your long stint of working during tourist season, I hope you'll soon have a chance to relax and do some traveling of your own. Take care, Laura
Francesco, Here is a picture from our trip and something you can write along with it: Beautiful weather, beautiful scenery, and Francesco showing it all to us. What started as an anxious day when our cruise ship was diverted to another port was no problem as Francesco drove the extra hour and met us at our new port. Professionalism, courtesy, and hospitality we expected, and we got. But beyond that, what we really enjoyed was all the personal conversation. It felt like we had been friends for years. We only wish we could have stayed and toured a few more days. We would not hesitate to recommend you.
Leave your review on our website